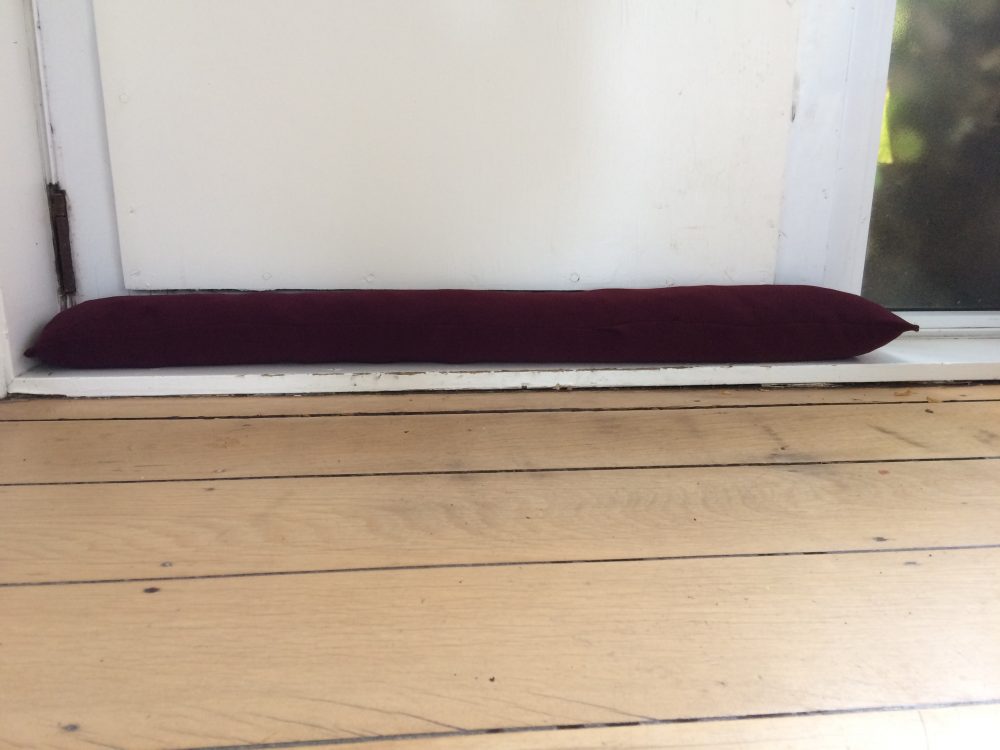 DIY DOOR SNAKE
Posted:
HOW TO MAKE A DRAFT STOPPER
A door snake is a valuable ally in the fight against winter drafts.  Keeping the drafts on the outside makes for a warmer home and lower heating bills. Sewing your own door snake is quick and straightforward, and you can even use scrap fabric. 
Step 1: Measure the base of the doors that need draft stoppers. Measure your fabric to fit the width of the doors, plus at least 2cm each side for sewing seams and troubleshooting. Allow enough fabric for a 15cm circumference plus extra for seams. You don't need to buy fabric; you can recycle fabric or pick up fabric from your local hospice shop. We used part of a trouser leg from our scrap fabric collection.
Step 2: Fold the fabric in half, lengthwise, right sides together
Step 3: Straight-stitch down the long side, sewing the sides together (you could use an overlocker here if you have access to one)
Step 4: Stitch across one end.
Step 5: Turn the fabric right side out. You can use a ruler to help push the fabric in on itself and pop out the corners.
We've now got what's starting to look like a door snake!
Step 6: (Optional) Stitch along the short seam you just closed up in Step 4. This will make this end match the other end that you'll sew up after you've stuffed the snake.
Step 7: Fill your snake with fabric scraps, rice or dried beans/pulses. Leave enough extra fabric for sewing the open end closed. At the open end, turn the ends under inside the opening to conceal the raw edges. Pin in place and stitch closed.
Step 8: Take a celebratory snap of yourself with your new draft snake!
That's all it takes to make your snake! 
Don't have access to a sewing machine? Come along to our monthly Make Do Mend sewing evening and borrow one of ours. Have a rummage in our scrap fabric boxes, and we'll be happy to help you make your own draft snake to take home. Check the events page to find the date for the next Make Do Mend workshop.