Te Hau o Te Whau
This pollution and waste-focused project known as Te Hau o Te Whau brings together groups working across science, community and iwi to help improve the mauri (life force) of the Whau River.
Te Hau o Te Whau means: The great connector of people to the river, connecting to different areas, connecting to each other. The name was given to the groups behind this project by local iwi, Te Kawerau ā Maki.
Ways to take action
The focus of this work is two-fold:
scientific partners are studying the micro to macro (small to large) effect of pollution in our arawai (waterways).
we're encouraging everyone to consider the daily actions we can take, yet often overlook, to remedy this pollution.
Simply picking up rubbish when we see it is one of those actions and we'd love you to join us as we work towards restoring our taioa (natural environment). 
EcoMatters is joined by local iwi Te Kawerau ā Maki, Auckland Council and The University of Auckland in this ambitious venture. The scientific studies will go on to educate and inform other areas of Tāmaki Makaurau (Auckland) and Aotearoa New Zealand, so it's vital we encourage the Whau hapori (community) to make this difference with us.
Simple daily actions to tackle pollution
If everyone picked up just one piece of plastic litter each day, our waterways could be transformed. Together, we'll stop plastics reaching our waterways and breaking down into microplastics.
Learn more about the safe use of common household products. Take a look at The Environmental Protection Authority's Safer Homes programme for extensive information on household products right here.
To get a little more involved, why not attend an event happening on or near the Whau River or its tributaries. Stay up to date on these regular events on our dedicated events page.
Tackling pollution through science
As well as taking part in daily actions, there are two scientific studies underway which are taking water samples from specific parts of the Whau river.
Where these studies are happening
This map shows you where samples of water from the Whau River are being taken for these studies. Blue markers show sites already sampled and purple shows sites for future sampling.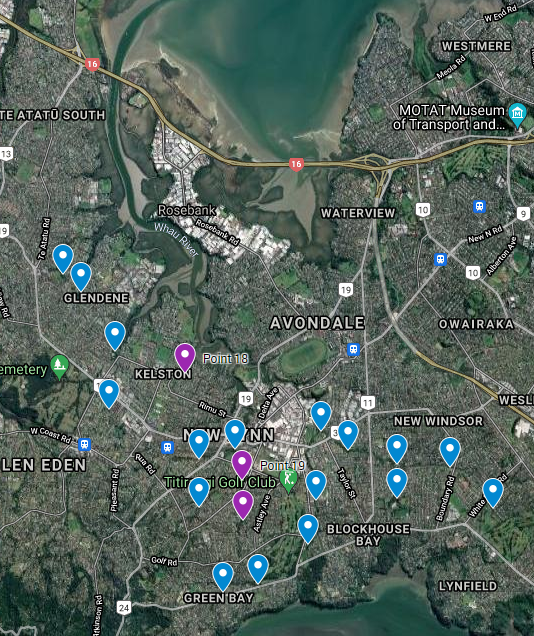 Microplastics study
The AIM2 study is a national research programme which is investigating the threat that microplastics pose to New Zealand's ecosystems, animals and people. AIM2 stands for Aotearoa Impacts and Mitigation of Microplastics.
Microplastics are pieces of plastic that are smaller than 5mm – this is about the same size as a pencil top eraser. Primary microplastics are those manufactured at this size for purpose, such as glitter or plastic used in production. Secondary microplastics are larger plastic items, such as packaging or products, which eventually gets broken down to microplastic.
If you're keen to learn more about this microplastics study, check it out here.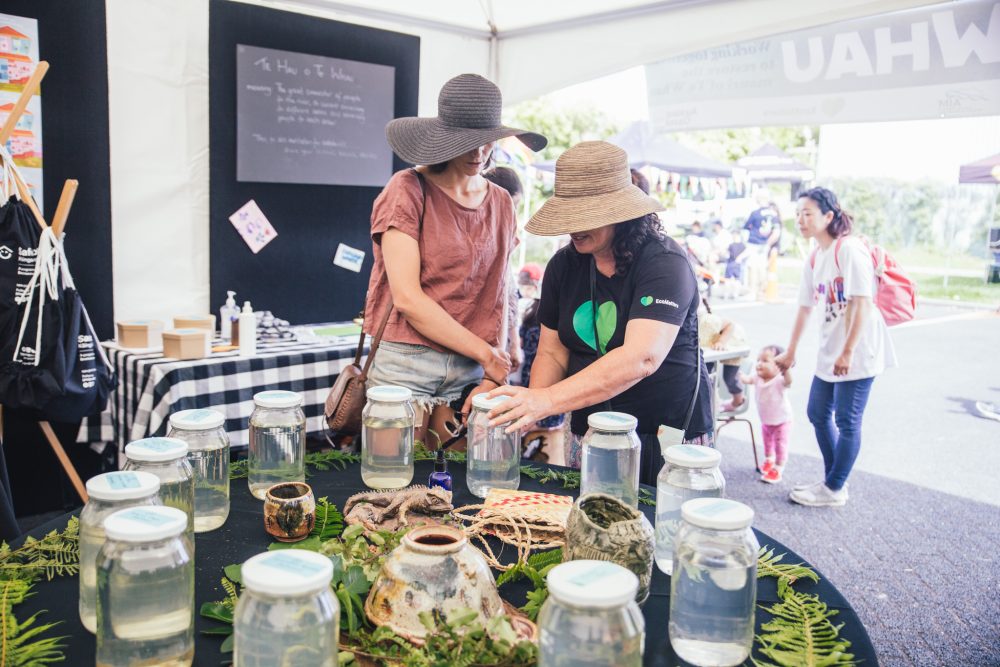 Contaminants study
The Emerging Organic Contaminants (EOC) study has been developed to investigate the effects of natural or manufactured chemicals. These include common household products, personal care products, medicines and agrichemicals.
The first goal of the study is to find out what EOCs are found most often in waterways and what risk these chemicals have for human health and the health of ecosystems.
The second goal of the study is to determine if, and in what quantities, chemicals are building up in the food we eat. This further extends to the question of antimicrobial resistance, when bacteria, viruses, fungi and parasites change over time and no longer respond to available medicines.
Find out more about the Emerging Organic Contaminants study here.
Kia ora and thank you to
Thanks to the support of our partners in this project, including Cawthron Institute, the AIM2 study, Auckland Council, University of Auckland and Te Kawerau ā Maki.
---
grants for local nature projects
Planning a local environmental project in the Henderson-Massey, Maungakiekie-Tāmaki, Whau or Waitākere Ranges local board area? Your group could be eligible for a $500 grant. The Love Your Neighbourhood grant is available for environmental and volunteer-driven initiatives. Find out more about all our grants here.