Te Hau o Te Whau
The essence of the Whau
This pollution and waste-focused project brings together groups working across science, community and iwi to help improve the mauri (life force) of the Whau River.
The name Te Hau o Te Whau was gifted by Te Kawerau ā Maki as the focus of the work is to restore and retain the health of the Whau River.
Te Kawerau ā Maki value water both generally through Te Ao Māori (the Maori world view) and their cultural, historic and traditional links with specific bodies of water. Mauri is a binding force between the spiritual and the physical; it sustains all life and is strongly present in water. The mauri of a water body is thus a measure of its life-giving capacity or physical and spiritual health.
He taura whiri kotahi mai anoo te kopunga tai no i te pu au.

From the source to the mouth of the sea, all things are joined together as one.
Ways to take action
The focus of this work is two-fold:
scientific partners are studying the micro to macro (small to large) presence of plastic and chemical pollution in our arawai (waterways)
we're encouraging everyone to consider the daily actions we can take, yet often overlook, to remedy this pollution.
Simply picking up rubbish when we see it is one of those actions and we'd love you to join us as we work towards restoring our taioa (natural environment).
EcoMatters is joined by local iwi Te Kawerau ā Maki, Auckland Council and The University of Auckland in this ambitious venture. The scientific studies will go on to educate and inform other areas of Tāmaki Makaurau (Auckland) and Aotearoa New Zealand, so it's vital we encourage the Whau hapori (community) to make this difference with us.
Simple daily actions to tackle pollution
If everyone picked up just one piece of plastic litter each day, our waterways could be transformed. Together, we'll stop plastics reaching our waterways and breaking down into microplastics.
Learn more about the safe use of common household products. Take a look at The Environmental Protection Authority's Safer Homes programme for extensive information on household products right here.
To get a little more involved, why not attend an event happening on or near the Whau River or its tributaries. Stay up to date on these regular events on our dedicated events page.
There are many more ways you can also reduce the amount of plastic and chemicals that could reach our waterways. You can also choose to buy food in glass, paper or cardboard packaging, rather than plastic, or buy in bulk to reduce the number of plastic containers that then need to be recycled or landfill. Choose items such as clothing, kitchen cloths and brushes that are made from natural materials or make your own personal care or cleaning products, which will help reduce the amount of man-made chemicals entering our waterways.
What contributes to a thriving waterway?
In 2021, we asked people what they thought helped create a thriving local waterway. We had 41 responses and the results show the complex interaction of factors, both in and out of the water. Explore the results of this survey below or to open the interactive presentation in a new tab, click here.
Here's some ideas about what you might want to consider as you explore these diagrams:
Of the influences identified, what did you expect to see and what surprised you?
What does this mean for what you can do to support a thriving waterway?
How are influences on waterways connected?
What do these connections mean for taking action to support local waterways?
What do these diagrams suggest for:

the products we buy and how we dispose of them
council policies we support
community activities we attend
how we get around our city
how we interact with awa?
Tackling pollution through science
As well as taking part in daily actions, there are two scientific studies underway, funded by the Ministry of Business, Innovation and Employment. The studies are investigating what's in the water along the Whau River.
Where these studies are happening
This map shows you where samples of sediment and water from streams feeding the Whau River are being taken for these studies.
At each of these sites the University of Auckland team are measuring the amounts of large litter and microplastic in the water and sediment from these streams.
They also measure the amount of litter on the land next to the streams, the shape and sediments in the streams and the type of land use around the streams.
This information helps them understand how much pollution is in our streams and what factors may lead to larger amounts of litter and microplastic in some places.
Learn more here about research into the ecological effects of microplastics.
Microplastics study
The Aotearoa Impacts and Mitigation of Microplastics (AIM2) study is a national research programme which is investigating the threat that microplastics pose to New Zealand's ecosystems, animals and people.
Microplastics are pieces of plastic that are smaller than 5mm – this is about the same size as a pencil top eraser. Primary microplastics are those manufactured at this size for purpose, such as glitter or plastic used in production. Secondary microplastics are from larger plastic items, such as packaging or products, that break or fragment in the environment, creating microplastics.
You can learn more about the issue at Litter Intelligence, a long-term programme collecting litter data, to provide insights and inspire change in New Zealand.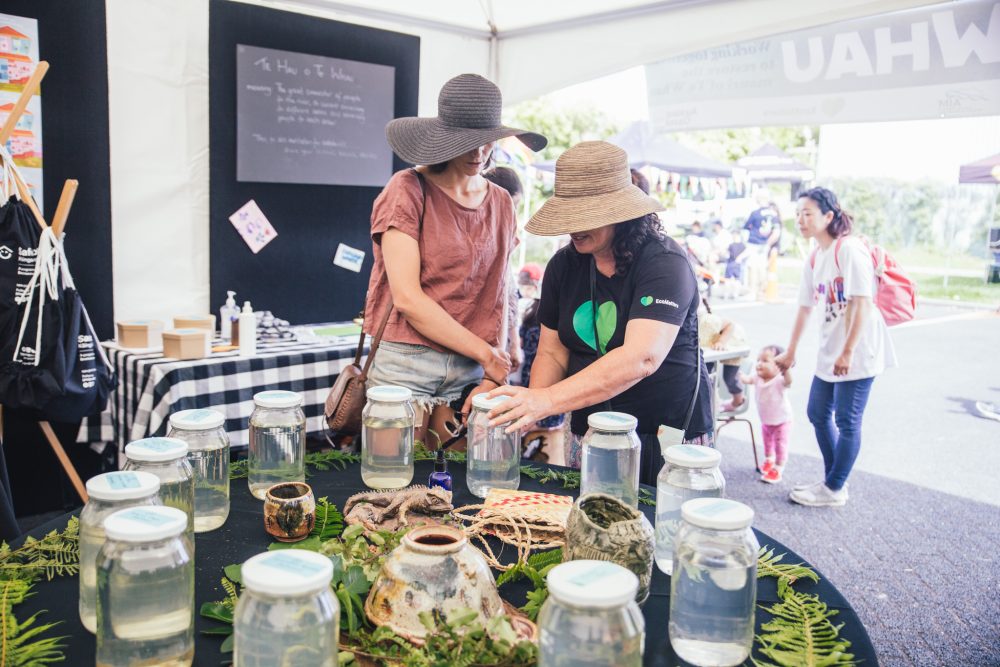 Contaminants study
The Emerging Organic Contaminants (EOC) study is investigating the effects of man-made chemicals in the environment. These chemicals come from common household products, personal care products, medicines and agrichemicals.
This study aims is to identify what EOCs are commonly found in waterways and what risk they pose to the health of ecosystems and our taonga species.
The research addresses whether EOCs can accumulate in and persist in the environment, and if so, what impact they have on natural ecosystems. Another important component of the project investigates whether EOCs play a role in the development of antimicrobial resistance, when bacteria, viruses, fungi and parasites change over time and no longer respond to available medicines.
Find out more about the Emerging Organic Contaminants study here.
Kia ora and thank you
Our partners in this project include Te Kawerau ā Maki, Auckland Council, University of Auckland, Cawthron Institute, ESR, Northcott Ltd, Scion, Para Kore, Massey University, Environmental Protection Agency and others.
---
Webinar Recording
Simple Steps to Healthier Awa is a recording of a webinar presented live on Sunday 27 March 2022, with presenters representing many of our Te Hau o Te Whau partners.
The scientists studying the effects of pollutants on the health of our waterways share what's been learned so far and how those results can help shape actions we can take to tackle this issue. You can also learn about the historical and cultural signficance of the Whau River to local iwi Te Kawerau a Maki and hear about those working on or near the river and its tributaries to help restore it back to health.
Open the video in YouTube and click on 'more' in the video description to access time stamps, which will take you directly to specific sections of the webinar.
---
AWA STORIES
This two-part storytelling project is about ten local residents' connection to their awa and their first experiences with wai/vai/water. Awa Stories launched with a photo exhibition in 2020, along Great North Road, in the middle of Avondale town centre. These portraits introduced each person and their awa story, with text in te reo Māori. The second part of the storytelling project is a series of short video interviews with the same people, from the home and on Te Whau itself.
---
grants for local nature projects
Planning a local environmental project in the Henderson-Massey, Maungakiekie-Tāmaki, Whau or Waitākere Ranges local board area? Your group could be eligible for a $500 grant. The Love Your Neighbourhood grant is available for environmental and volunteer-driven initiatives. Find out more about all our grants here.