Street Art Bike Challenge
Thank you for taking part in the 2023 challenge
During October we saw some especially colourful cycle rides around Tāmaki Makaurau's highways, byways and streetscapes.
October 2023 was the fourth EcoMatters' award-winning Street Art Bike Challenge, giving Aucklanders the opportunity to win $1000 worth of prizes, by snapping their favourite street art spots around Auckland and posting with #streetartbikechallenge. 
If you've entered we thank you wholeheartedly for your contribution. Stand by for the winners to be announced by mid November.
Street art meets the art of cycling
Street art is generally defined as public-space artwork that is created for appreciation outside of a normal art gallery setting. It is designed to inspire, uplift, challenge and question – all for free.
Driving along in our cars, we often miss the vibrant street art all around us: murals, yarn bombing, sculpture, power boxes, and even some pretty remarkable stained glass windows.
Hopping on your bike for a ride to find these often-forgotten treasures is a great way to appreciate public art and enjoy a slower, cleaner mode of transport.
Healthy for body, mind and the environment.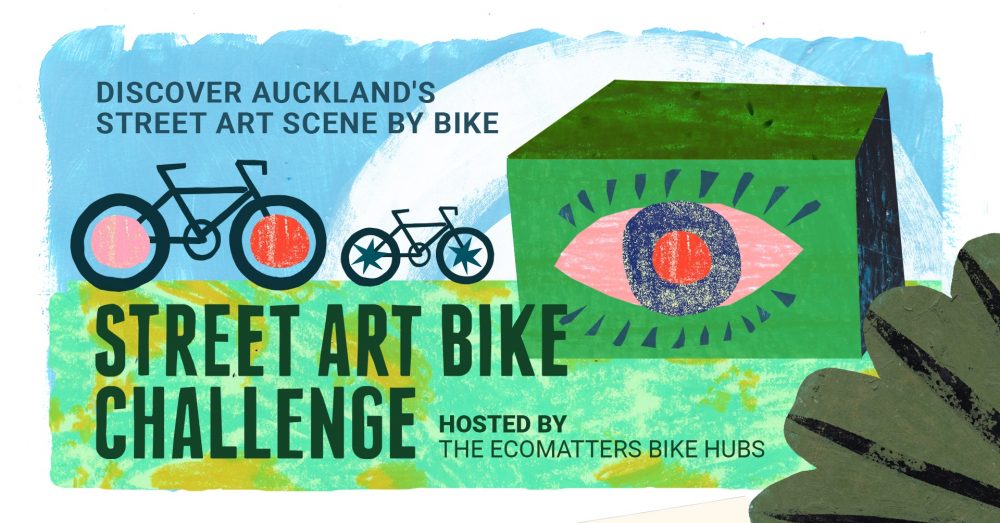 Our Street Art Bike Challenge map
Over the years, EcoMatters has been building a street art map to help get you on your way around Auckland's highways and byways. Entrants from previous years have also joined in to create this colourful trail and we'd love to see 2023 entrants do the same. Simply geotag post entries or let us know where you are in your description or story and we'll do the rest.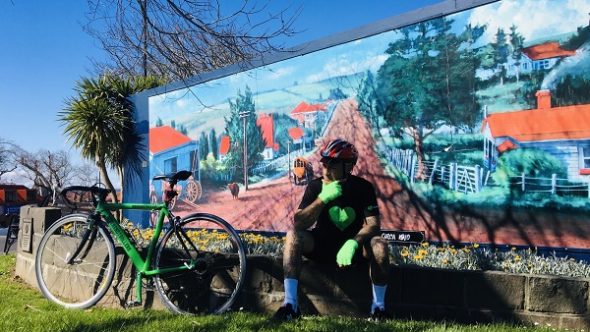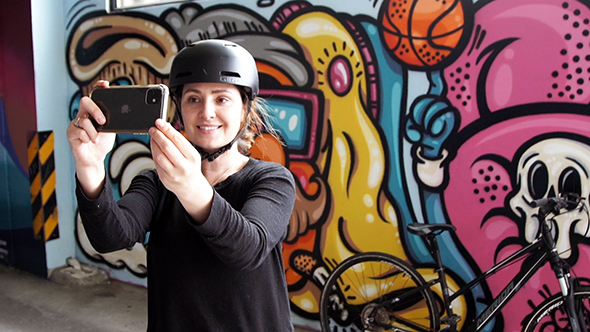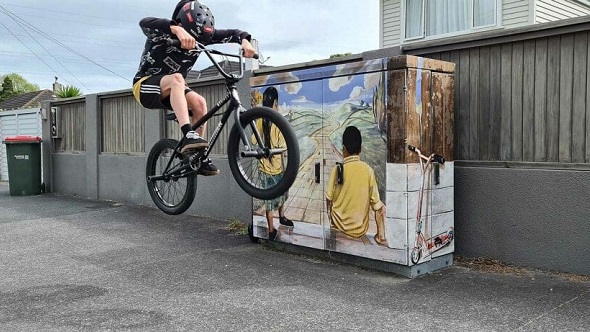 Challenge Terms and Conditions
Post your photos between 1 and 31 October 2023 with the #StreetArtBikeChallenge hashtag.
People without a Facebook profile or Instagram account can email entries to [email protected].
If your Facebook profile or Instagram account is private we may not be able to see your entry. Please email a screenshot of your entry to [email protected].
While we recognise that Street Art is subjective, EcoMatters reserves the right to exclude any photos that are not deemed eligible.
Only photos taken within the Auckland region are eligible.
Photos must include you, your bike and the street art. If there are multiple people in your photo, only the person who has made the submission will be eligible for the prize.
Multiple entries are encouraged but are limited to two entries per location, for example one wall or laneway with multiple murals is considered one location.
There is no limit on how many times a person may enter. Entries must be received during the competition period.
Winners will be contacted via private message on social media.
Judges' decision is final. No correspondence will be entertained.
By entering the photo competition, you give EcoMatters permission to share your photo(s) publicly, to use them for future publicity, and for the prize sponsors to share and use your photo(s).
EcoMatters and Auckland Transport staff may enter but are not eligible to win prizes.
---
---
Award winning project
The 2021 Street Art Bike Challenge received a Highly Commended for Best Lockdown Project in The Kūmara Awards 2022. These awards recognise projects and initiatives that aim to connect, inspire and uplift their local communities.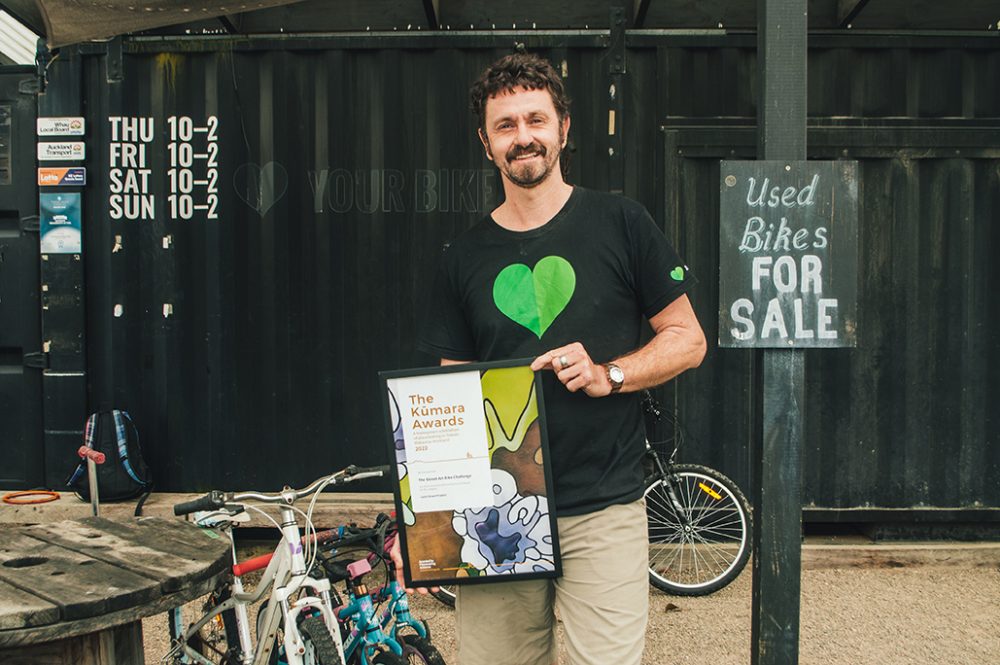 The judges rated this project highly in the pool of projects relating to exceptional placemaking in Aotearoa.
---
2023 prizes up for grabs!
$500 grand prize drawn randomly from all entries received (the more times you enter, the more chance of winning)
$300 Judges' Choice for best photo or video
$200 Judges' Choice for best whānau entry
additional spot prizes issued right through October
Kia ora to some incredibly generous organisations for making these prizes possible, including: Bike Auckland, Auckland Transport, MOTAT.
---
GREAT STREET ART TRAILS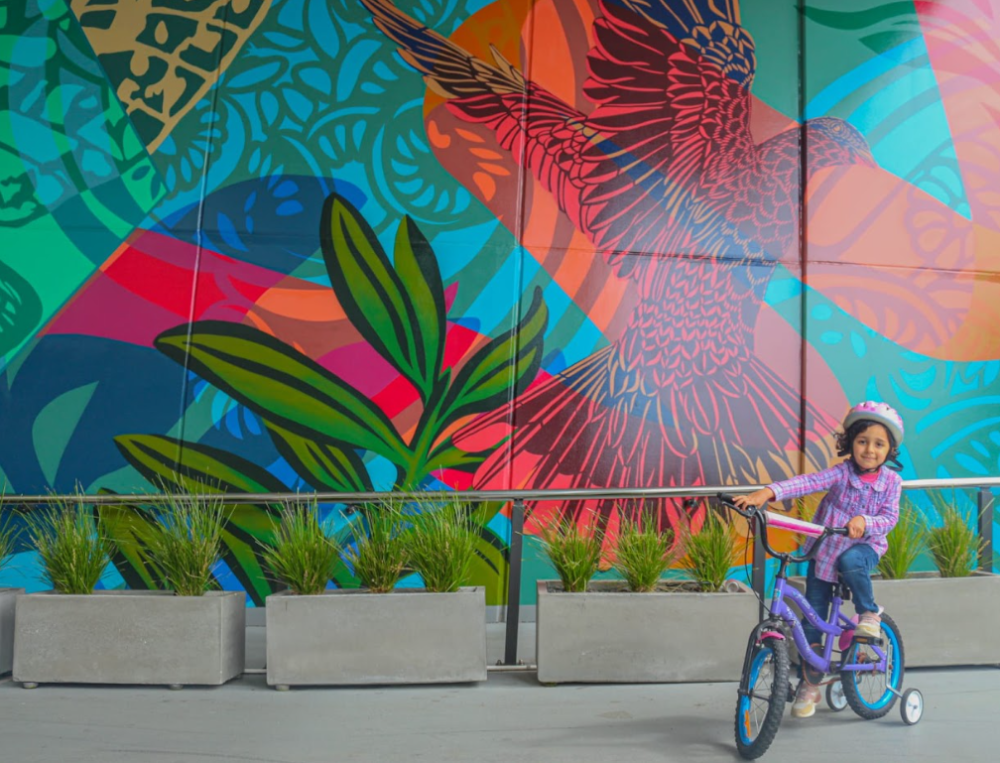 Tāmaki Makaurau is filled with a treasure trove of art trails that are already mapped out for you. Just hover and click!
---
Kia ora and thanks to
The Street Art Bike Challenge was originally inspired by The Big Bang Challenge and is made possible today, thanks to funding support from Auckland Transport.