Street Art Bike Challenge
1 – 31 October 2022
During the month of October, discover Auckland's street art scene by bike. With the support of Auckland Transport, we're encouraging Aucklanders to explore the city's thriving street art scene by bike, submit a photo and be in to win $1,000 worth of amazing prizes. Hosted by the EcoMatters Bike Hubs.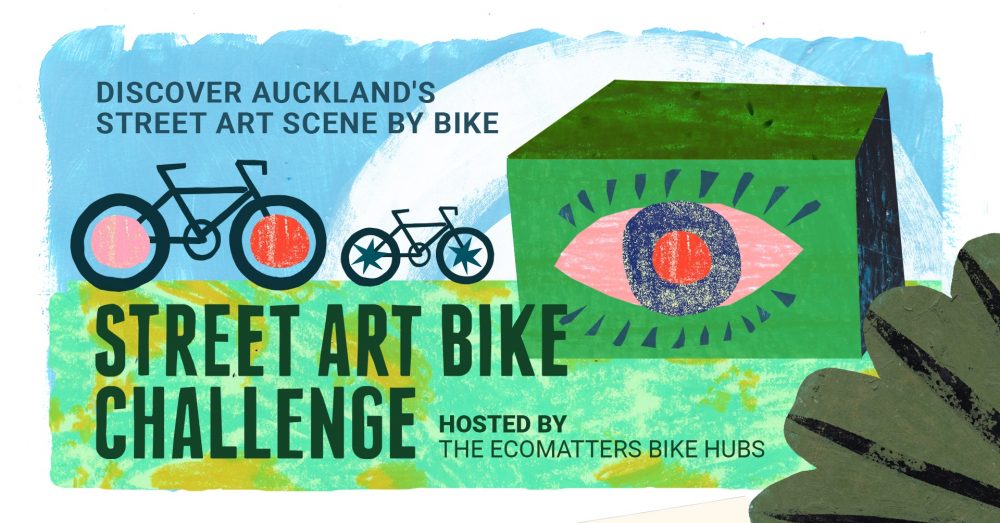 Here's how it works
Jump on your bike and discover Auckland's array of street art.
Take a photo that includes a piece of street art, you, and your bike.
Share your photo with the #StreetArtBikeChallenge hashtag in a public post on your Facebook or Instagram profile with the street name and suburb. Where the artist's name is visible, please credit or tag the artist in your post.
Each photo of you, your bike, and a new piece of street art is one entry for the prize draw.
Optional extras:

tag a mate to invite them to the challenge and your entry counts twice!
include a story about your bike ride in your post to enter the competition for Best Story.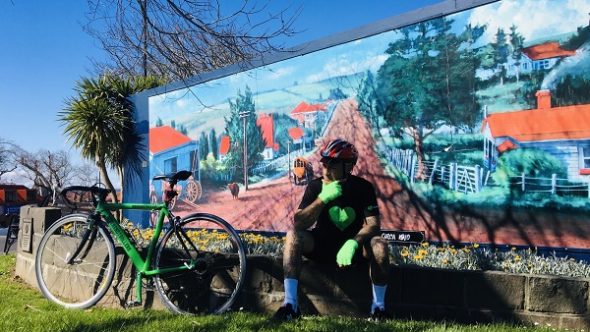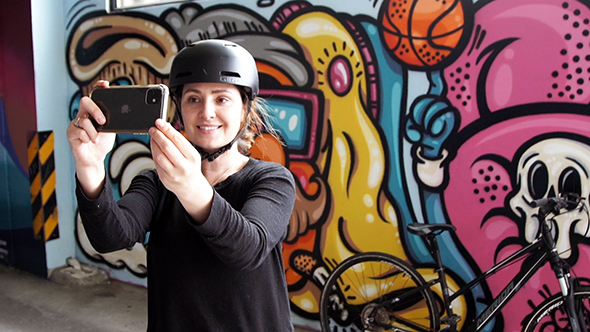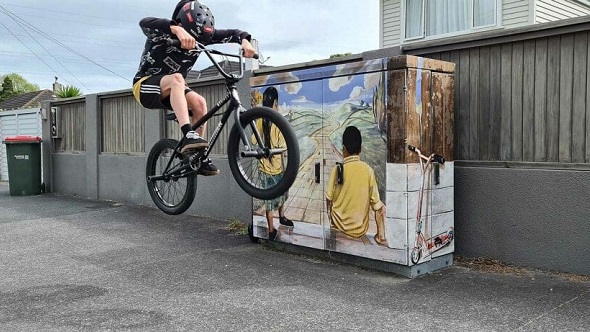 Prizes
More than $1000 worth of prizes are up for grabs.
Prize Draw: $750 bike shop gift voucher
Judges' Prize for Best Story: $250 bike shop gift voucher
Random spot prizes will also be awarded throughout the month.
Entry tips
To ensure we see your entry, please follow the instructions below;
If your Facebook profile is private, you'll need to adjust the privacy settings for the photo you post. See instructions here.
If your Instagram profile is private, please email a screenshot of your entry to

[email protected]

.
We will respond within 48 hours, acknowledging your entry.
Locations to get you started
The map below shows just a sample of some of the many pieces of street art and painted power boxes around Auckland to get you started. We are sure there are 100's more, and it's up to you to hunt them down.
Please note that the location pins may not mark their exact spot. You may need to ride around the location of interest to spot them.
Terms and Conditions
Photos must be posted between 1 and 31 October 2022 with the #StreetArtBikeChallenge hashtag.
People without a Facebook profile or Instagram account can email entries to 

[email protected]

.
If your Facebook profile or Instagram account is private we may not be able to see your entry. Please email a screenshot of your entry to 

[email protected]

.
While we recognise that Street Art is subjective, EcoMatters reserves the right to exclude any photos that are not deemed eligible.
Only photos taken within the Auckland Region are eligible.
Photos must include you (or part of you), your bike and the street art. If there are multiple people in your photo, only the person who has made the submission will be eligible for the prize.
Multiple entries are encouraged but are limited to two entries per location, for example one wall or laneway with multiple murals is considered one location. Limited to 10 entries per day per person and a maximum of 50 entries per person for the event.
Winners will be contacted via private message on social media.
Judges' decision is final. No correspondence will be entertained.
By entering the photo competition, you give EcoMatters permission to share your photo(s) publicly, to use them for future publicity, and for the prize sponsors to share and use your photo(s).
EcoMatters and Auckland Transport staff may enter but are not eligible to win prizes.
---
What counts as street art?
Street art is art that can be found on the street and can be defined as "public-space artwork that's created for consumption outside of the typical art gallery setting". Street art is synonymous with "public art" as it encompasses various mediums like murals, yarn bombing, sculpture, or stained glass. One of the key differences between street art and graffiti is that graffiti or tagging is usually letter-based, territorial and illegal. On the other hand, street art generally includes artistic designs and the intention to improve a sidewalk, wall, power box or anything else on the streets.
Paul Walsh, one of New Zealand's most prolific public artists, shares his definition of the term here.
Kia ora and thanks to
The Street Art Box Bike Challenge is made possible thanks to funding support provided by Auckland Transport. This competition is inspired by the Big Bang Challenge by The Runnns.