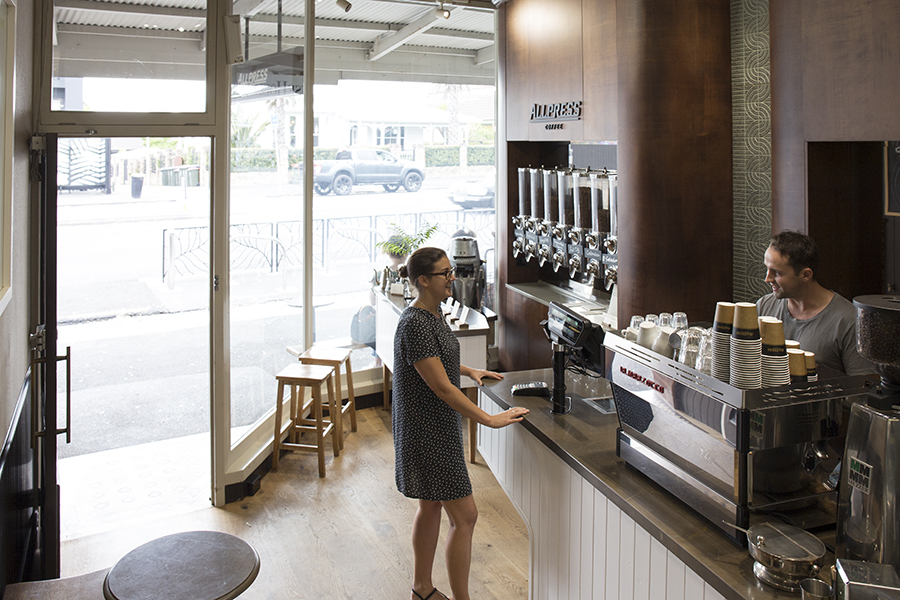 How sustainability became a way of life for Allpress Coffee
Posted:
In just half a year, we've worked with 11 cafes to divert 7,153kg of coffee grounds from landfill. This was part of a pilot project to collect used coffee grounds from cafes in Waitematā and compost them to feed the soil in local community gardens.
Allpress Coffee at 266 Ponsonby Road was one of the cafes that took part in the project, and their cafe alone contributed a whopping 928.6kg of used coffee grounds. We talked to the team at Allpress about why they signed up, and what else they're doing to lead the way in sustainability.
What motivates Allpress to do things sustainably?
The motivation comes from our people. We are lucky in our industry and at Allpress to have fantastic motivated and deeply caring people who believe in the "every little bit counts" philosophy. The belief that sustainability is not only "the right thing to do" but a way of a life and therefore a must do for our people, our customers and our communities both current and future motivates all of us.
What did you start with?
One of the many by-products of roasting coffee is the hessian sacks that our green beans arrive in. You can imagine we go through a lot of coffee sacks each week… so, in 2010, we started our Recycle-a-Sack initiative; an easy gold coin in exchange for a coffee sack. Ever since we first put out the crate of sacks at our Ponsonby Road Espresso Bar, it was a huge success.
We've now expanded to all of our twelve locations around the world. We leave it up to the local schools to choose how they spend the money and over the years more than $50,000 has been donated. It's been used for a variety of projects; from purchasing musical equipment, contributing to a new school hall, gardening costs… and then some!
What other sustainability actions does Allpress take?
We partner with our good friends Steve & Gemma from We Compost for both of our Auckland Espresso Bars, our Roastery and our café partners in central Auckland. For our Christchurch Café & Service Hub we partner with Cultivate Christchurch and at our Dunedin Roastery we have our own worm farm that takes care of our composting.
All of our packaging that comes out of our four New Zealand cafés is compostable or recyclable.
In 2010 we started using BioPak Allpress branded takeaway cups and lids which are commercially compostable.
We're in the final stages of developing an Allpress reusable cup to minimise the amount of single use cups we're putting out into the world – watch this space!
We're also working on our wholesale coffee packaging, which will soon be 100% environmentally friendly.
We partner with a number of organisations who are doing good not just environmentally but socially e.g. Nga Rangatahi Toa, Child Matters.
Why did you decide to sign up to our coffee grounds collection pilot?
We were stoked when you guys approached us and it didn't take us long to know we wanted to be a part of what you do. We're super happy to have joined forces with a local organisation that we admire and respect.
This pilot service was funded by the Waitematā Local Board through Live Lightly campaign, and delivered by EcoMatters in partnership with the Compost Collective.
See more photos from Allpress Coffee's visit to Kelmarna Gardens here