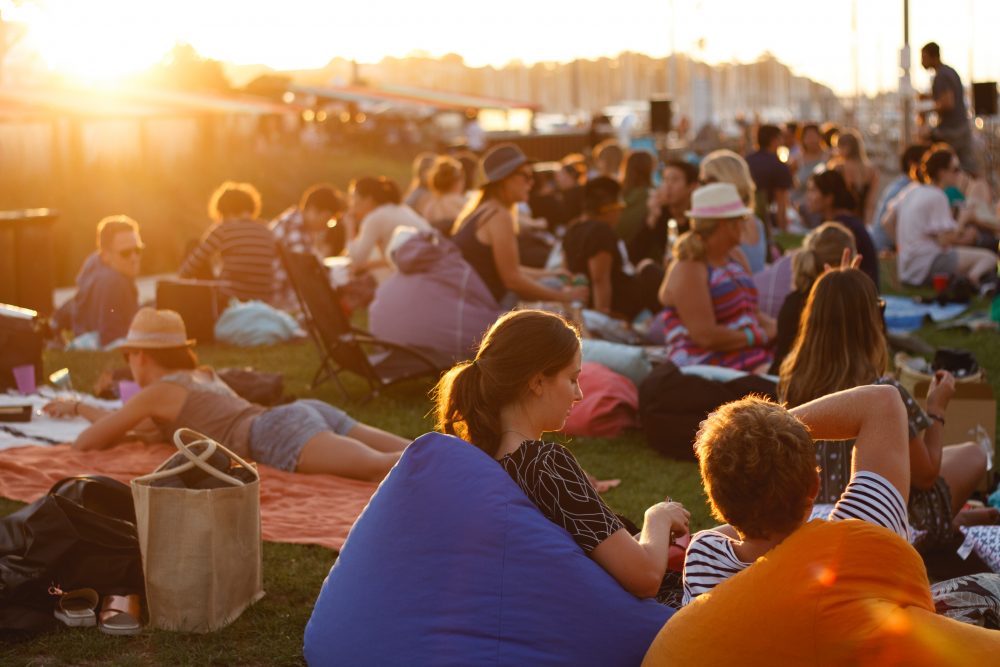 8 EcoWest Events for Night Owls
Posted:
The early bird may catch the worm, but the Night Owl can catch some great events!  Do you live for the night life?  Stay up with us and explore the late night options during this year's EcoWest Festival.
Kick off this year's EcoWest Festival right with the Down & Dirty // Rooftop Party!  The party starts when you walk in, and after you have helped with one of the Working Bees or payed the $30 for entry.  Want to earn your place?  Help out Gabriela and Alanah with mulching in Glen Eden.  Or maybe put your skills to use helping Sarah and Chrissy pot up some plants in New Lynn.  Phil and Simon could use your help in Te Atatu preparing planting sites with Te Atatu South Kindergarten.  You can sign up for a working bee or book your spot at www.ecomatters.org.nz/down-and-dirty.
Saturday 17 March, 1-3pm // 4-8pm at the Lopdell House
Tired after a long work week and looking for something fun on your Friday evening?  Why not head out to Green Bay and partake in the Green Bay Street Food?  This relaxed evening includes some of the best street food vendors from all around and has the added benefit of raising awareness about waste minimisation in the community.  Bring along the whole gang and enjoy an evening of great food, great friends, and great feelings.  
Fridays 23 March, 6 and 13 April, 5-8.30pm, Green Bay Community House
Ever wonder if there are bats? In Glen Eden? Let's find out! Join us for an adventurous night time walk to spot these magnificent animals.  We will be using bat monitors to detect their presence.  Please wear sturdy shoes and bring a torch.  
Free Event, Booking Required: email [email protected]
Friday 23 March, 7pm, Kowhai Reserve Carpark, 28 Withers Road
The future is in the hand of the next generation, and this event helps shine some light on the great things to come.  Spend an evening at the short films screening from The Outlook for Someday, a sustainable film project for young people.  Several film-makers will also be available for a Q&A session and to give information on their films.  See how these young people will help change the world of tomorrow at this free event.
Monday 26 March, 5.30-7pm, Lopdell Theatre, 418 Titirangi Road

What lurks in the dark around every corner?  Join Dr. Peter Maddison ad EcoMatters for an evening walk along Titirangi's iconic Exhibition Drive to discover creatures of the dark.  Possible encounters include glow worms, spiders, cave weta, and bats.  Torch is essential, moderate fitness required, wear sturdy footwear, and dress for comfort.  Bring koha to go toward Te Kawerau a Maki's endeavours to protect the Waitakere Ranges.  To book email [email protected] or call 826 0554.
Wednesday 4 April, 6-8pm, Filter Station, Woodlands Park Road
Calling all green geeks and nature-loving nerds: challenge your general and environmental knowledge, with great prizes up for grabs.  Grab your mates and book a table of six, or, book yourself a ticket and we'll match you up with a team on the night.  Cash bar and food available, an empty your piggy bank for raffle tickets and competitions.  All funds go towards EcoMatters' environmental initiatives.  Tickets are $15 per person or $90 for a table of six.  To book go to www.ecowest.org.nz.
Thursday 5 April, 7pm Doors, 7.30pm Start, Blockhouse Bay Community Centre, 524 Blockhouse Bay Road
Have you considered alternative uses for vacant car parks?  For this event, the Falls car park on ALderman Drive will be transformed into an open-air cinema for local families to enjoy.  With food trucks, entertainment and a jazzed-up journey along the Twin Streams Cycleway – grab your friends and family, get on your bikes and join us for a great night (the movie Ratatouille starts at 6pm).  Free Event.
Saturday 14 April, 4pm, Falls Car Park, Henderson
Even in a concrete jungle, there is life everywhere.  Come and explore the reserves, streams, and wetlands in West Auckland's urban areas.  This nature walk is a great alternative to tracks within the Waitakere Ranges Heritage Area.  Bring along the whole family and enjoy a taste of nature in this concrete jungle.  Free Event. To book email [email protected] or call 09 826 0554.
Wednesday 28 March, 6.30-7.30pm, Rush Creek Reserve, 11 Westgate Drive
Check out the full programme for EcoWest Festival 2018 at www.ecowest.org.nz