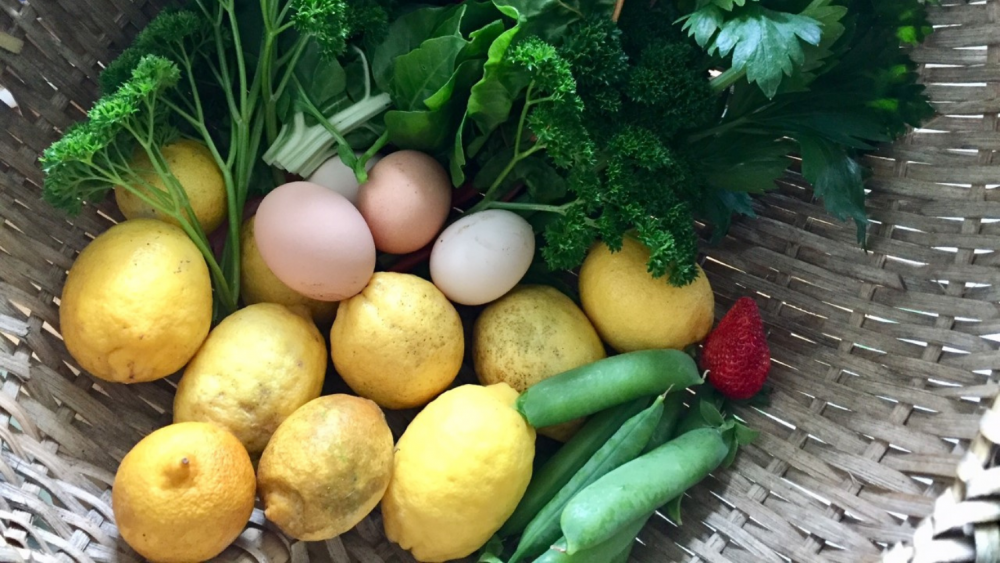 Lunch from the Garden – Pesto Kale Salad Recipe
Posted:
Megan Cole has been on a journey to reduce her household's waste for the last few years. When she came across a "Grow your own greens" workshop by Love Food Hate Waste workshop, and it was only two minutes up the road from her house, she jumped at the opportunity. The workshop is designed to inspire people to grow their own food, and use it wisely, while teaching some great tips and cooking tasty food. Megan tells us about her experience and what she took away from it.
Megan's story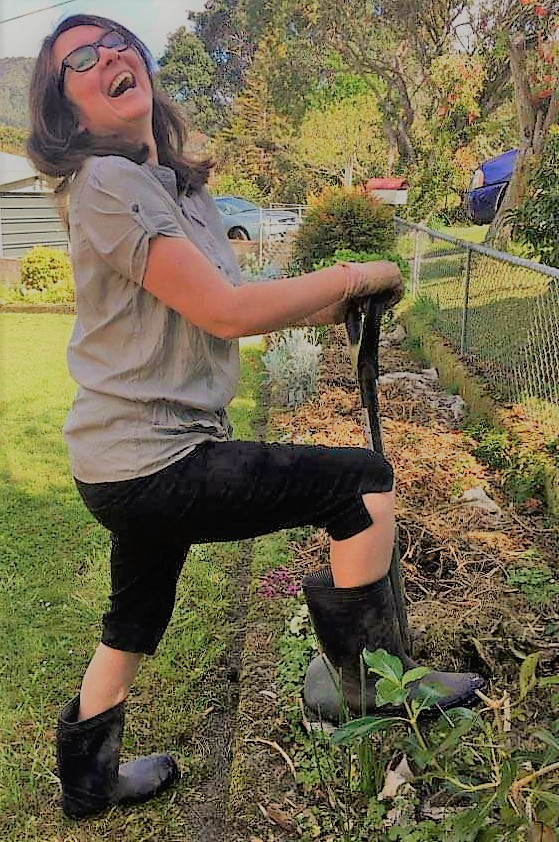 Tell us a bit about yourself
I live in West Auckland's Huia on a sunny, coastal quarter-acre section with my partner, two children and eight chickens. Our property has plenty of lawn area, flower gardens, a vegetable garden, and fruit trees (feijoa, grapefruit, mandarin, lime, lemon, and apple). We were lucky to inherit a ready made, and very usable garden from the original owner, when we bought the property two years ago.
What made you decide to attend the Grow Your Greens workshop?
I was already on my own path of reducing waste – I buy what I need, we try to eat everything we cook, and if something is not eaten it goes to the chickens or is composted. I also have a deep interest in permaculture gardening (bringing the production of food closer to the consumer, with the consumer's waste going back into the cycle).
What are the top tips you learnt at the workshop?
I learnt some great new tips and had others reaffirmed. Ideas such as using seagrass and seaweed for mulch, and not pulling old vegetable plants out by the roots. Apparently it's best to leave them in the ground to break down on their own, as their root systems have aerated and improved the soil structure.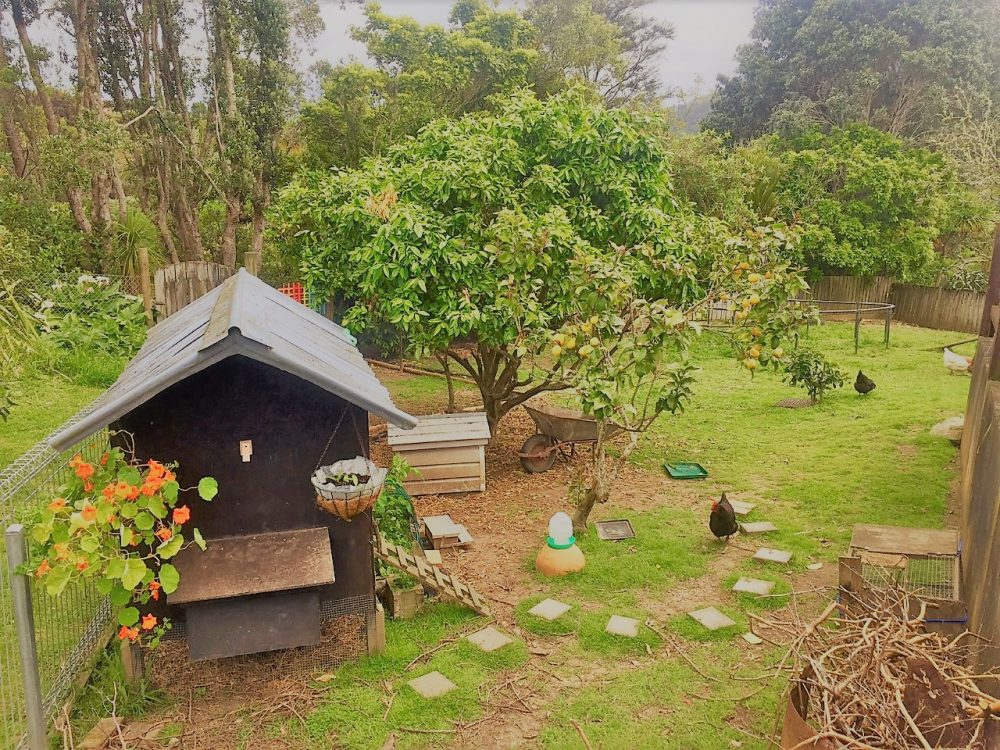 Did anything you learn at the workshop surprise you?
Yes! I hadn't known that the chlorine in our tap water was damaging the microbes in the soil when I was watering my garden with the hose. I am now going to get a filter to put on my tap which filters out the chlorine, or better still, install a rainwater tank to collect rainwater.
What was your favourite recipe from the workshop?
We learnt how to make a delicious kale salad, and I already had most of the ingredients in my garden to replicate this. Amanda was great at letting the kids get involved in the food preparation too – my son was very keen on helping out with grinding the almonds in the mortar and pestle. We've included the recipe below!
What is your advice for someone starting their journey of reducing food waste?
With fresh ingredients it's best to buy little and often, and grow as much as you can of the easy to grow greens such as lettuce, spinach and silverbeet. Leeks and spring onions are also great and easy to grow. When putting away your groceries take note of expiry dates and put food in the freezer so it doesn't go off before you can use it. Chickens, cold composting, worm farms, and bokashi are great ways to make use of leftover food scraps.

Amanda's Pesto Kale Salad Recipe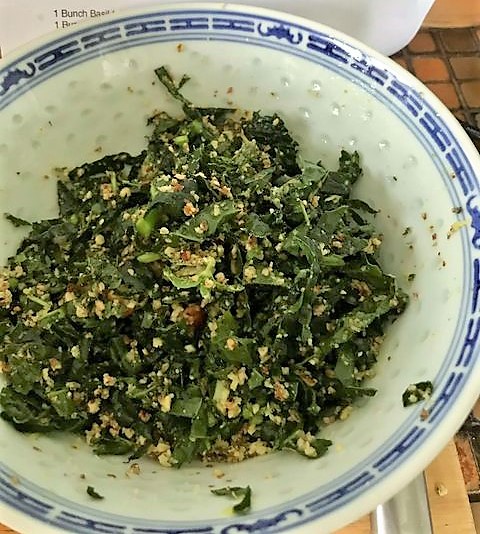 Ingredients
1 Bunch Basil (with flowers!)
1 Bunch Parsley
12 Stalks Kale
1-2 Cloves Garlic
1 Cup Raw Almonds (If allergic: sun flower seeds)
1/2 Cup Olive Oil
1 Lemon (juice & rind)
Salt & Pepper
1/4 Cup Nutritional Yeast
Optional: 6 Stems Sorrel
Optional: 1 Cup Garbanzo Beans
Preparation Time: 20 Minutes
Method
1. Chiffonade kale and place in medium size bowl.
2. Remove bright yellow layer of rind from one half of lemon and save. Squeeze juice of whole lemon onto kale.
3. Pour olive oil over kale, add a pinch of salt and massage greens until tender. Raw kale is not
only hard to chew, but is hard on your digestive system. Massaging with lemon, oil and salt breaks
the kale down. The mixture should feel VERY wet. When you add all the other ingredients, they will
soak up the extra oil and lemon.
4. Dice parsley and carefully chiffonade basil so it doesn't bruise. Mince garlic and almonds
together. If you have a chopper that can dice the parsley, garlic and almonds together, it's a quick
shortcut.
5. Combine all ingredients including nutritional yeast with kale. Mix well.
6. OPTIONAL: If you have sorrel, chiffonade and add to the salad for extra zing. This will add more
sour to the salad.
OPTIONAL: Mix in garbanzo beans. If you add garbanzo beans, you may need to add a bit more
olive oil and salt if the salad is a bit too dry.
7. Salt & pepper to taste.
"What makes this recipe so special: lemon rind and basil flowers! Once you taste this recipe, you
will understand why I have a constant supply of basil and parsley in my garden. LOTS of it! The
flavor of this salad is dependent on TYPE of basil too. Blue Russian Basil (shown here) is
particularly fragrant as is Tulsi Basil" – Amanda, Love Food Hate Waste Tutor.
—–
EcoMatters works in partnership with Love Food Hate Waste to deliver programs that help to reduce organic waste and build food resilience in our community.
To find out more check out the Love Food Hate Waste website for tips and inspiration about how you can save money and reduce your food waste at home.
Check out their free seasonal meal planner and recipe book here to help families shop, cook and eat nourishing meals for under $70 a week.
For other ways to reduce your waste and how to compost from home learn online at Compost Collective.