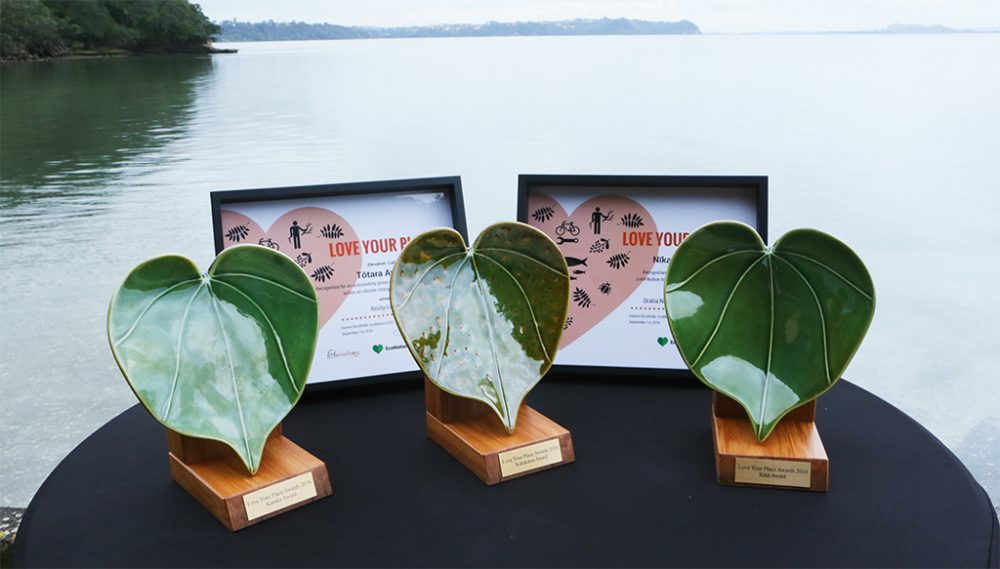 Local environmental champions recognised
Posted:
The winners in the inaugural Love Your Place Awards were announced last night at a ceremony held in the French Bay Yacht Club in Titirangi.
Funded by the Waitākere Ranges Local Board and hosted by EcoMatters Environment Trust, the awards are organised to celebrate volunteer efforts across the Waitākere Ranges Local Board area.
Awards were given out across six categories, including a celebration of volunteer efforts by youth, businesses, individuals and organised groups who took action on climate change, coastal issues, pest plants and animals, and other significant environmental issues facing the ranges.
Nominations for the awards came from the community, and were judged by EcoMatters' staff and trustees.
EcoMatters CEO, Damon Birchfield, says the Love Your Place Awards are a way for the local board to recognise, celebrate and thank at least some of the many thousands of volunteers that put their time and efforts into protecting the natural environment in and around the ranges.
Waitākere Ranges Local Board Chair Sandra Coney agreed:
"The Waitākere Ranges are a regional jewel. We all know that, but sadly there are also a lot of environmental challenges in protecting them. We have kauri dieback, localised pollution issues along the coastline, in our lagoons and streams, and pest plant and animal infestations. All of these threaten the viability of the ecosystem which makes up the Waitākeres."
"Our volunteers and committed community members are an absolutely critical part of the battle to protect this jewel for the future. We simply do not have the resources to adequately protect the environment without them," she says.
Of this year's finalists Birchfield said the judges were amazed at the commitment and breadth of volunteer activities of individuals, groups and businesses across the area.
"It's heart-warming to see the true love people have for this special place and their willingness to devote significant time to their protection. The awards themselves also provide a great demonstration of how the council in partnership with community organisations like EcoMatters can jointly celebrate outstanding community contributions and activities."
"The plan is to make the Love Your Place Awards an annual celebration of volunteer activities," says Coney.
The category winners for the 2016 Waitākere Ranges Local Board Love Your Place Awards are:
Karaka Award – Recognition for a school group or individual student environmental champion
Winner – Woodlands Park School
Judges' Commendation – Orchard Group Henderson Valley School
Puriri Award – Recognition for an outstanding group or individual volunteer taking action on marine or coastal environment issues
Winner – Dick Bellamy
Judges' commendation – Piha Coastcare
Nikau Award – Recognition for a business making a contribution to improving the environment
Winner – Oratia Native Plant Nursery
Judges' Commendation – Fresh Choice Glen Eden (accepted by Kristy Lorson on behalf of Pranil Ranchhod from Fresh Choice Glen Eden)
Elevation Café Totara Award — Recognition for an outstanding group or individual volunteer taking action on climate change related issues
Winner – Kristy Lorson
Judges' Commendation – Sarah James
Rata Award – Recognition for an outstanding group or individual volunteer taking action to reduce pest animals and/or pest plants
Winner – June Henderson
Judges' Commendation – Karekare Landcare Group
Barfoot & Thompson Glen Eden Kahikatea Award — Recognition for an outstanding group or individual volunteer taking efforts to work on a significant local environmental issue
Winner – Bruce and Trixie Harvey
Judges' Commendation – Friends of Arataki & Waitākere Rivercare Group
Special Prize Draw (one night accommodation donated by Wainamu Luxury Tents, Te Henga) – Fair Food
The full list of finalists in this year's awards:
• Allan Johnson
• Aprilanne Bonar
• Barry Evans
• Blair McLaughlin
• Bobbie Carroll
• Bruce and Trixie Harvey
• Cara Cox
• Cornwallis Petrel-Heads Conservation Group
• Dave Bowes
• Dick Bellamy
• Fair Food
• Fresh Choice Glen Eden
• Friends of Arataki
• Graham Poole
• Jeremy Painting
• Joanna Tao
• Joanne Hakaraia-Olson
• June Henderson
• Karekare Landcare Group
• Ken & Phillipa Croft
• Kristy Lorson
• Laurie and David King
• Mel Willmott
• Nourish Community Garden
• Oratia Native Plant Nursery
• Orchard Group Henderson Valley School
• Piha Coastcare Trust
• Sarah James
• Sustainable Neighbourhoods
• Waiatarua Weed Taskforce
• Waitākere Rivercare Group
• Water Quality Group of Piha R&R
• Woodlands Park School