CANCELLED: Seasonal Pulse Autumn: Organics and Kaitiakitanga
Location
Longbreath Farm

37 Te Henga Road, Waitākere
Auckland, Auckland 0781 New Zealand
About this Event
Sorry, we've had to cancel this event, due to the wet weather forecast for the planned date. If you have registered, we'll be in touch to let you know.
In autumn the earth 'breathes in' and becomes cool as we move towards Matariki. Learn to read the land, take stock, lift crops, then start planning for the year ahead. Walk with Brendan as we listen and learn from this special, organically certified Te Henga farm.
Longbreath Farm is a beautiful 10-acre organic haven with an orchard, food forest, woodlot, chooks, and home vege production – an inspirational property which is motivating for gardeners and farmers, whether you're into home gardening, urban food production or wanting to diversify and future-proof your lifestyle block or farm.
'Shows what is possible on a small-holding in a sustainable/self-sustaining way. Plus the restoration work is inspiring. Thoroughly enjoyed it.' April 2019
THE SERIES
Seasonal Pulse is a quarterly series for organic gardeners and Auckland (peri-urban) farmers with Brendan Hoare.
Attendees can start any time of the year, and choose to attend one or more sessions.
* See examples in action around the farm including orchard, foodforest, woodlot, chooks, beehives and home vege production.
* Practical tips for action this month; past, present and future cycles of the land; reading landscape
* Guidance and 'to do' lists for home gardens, nursery, farm and tree crop systems
* Work schedules and planning tools
* Practical seasonal gardening techniques.
** In a changing climate getting a grasp of the 'seasonal pulse' is essential in gardening and farming success: timing is everything. Understanding these pulses requires training and recognition of natural cycles while anticipating and adjusting to local variation takes time and requires awareness. This is particularly true if wishing to undertake land management without the over-use of external inputs like fertilisers, pesticides and machinery.
The combined skills to achieve success includes reading the landscape and habitat, anticipating seasonal change through data, preparation of next seasonal activities, detailed work plans and a deep understanding of the local environment. All of these skills can be learnt if practiced on a regular basis.
If you have an established garden, are starting a garden, managing a farm or looking at buying land, and wishing to do so using organic and regenerative principles, this programme will help you develop skills and realise your dream.
You will develop skills to enable greater awareness of the land you are working with and meet some great folks along the way.
Brendan Hoare
Tutor: Brendan Hoare, former Organic Systems and Sustainable Design tutor, Unitec; Buy Pure NZ Ltd
BRING: A raincoat, sturdy covered shoes, hat, gloves, water bottle, snacks.
If you are unwell, please stay at home.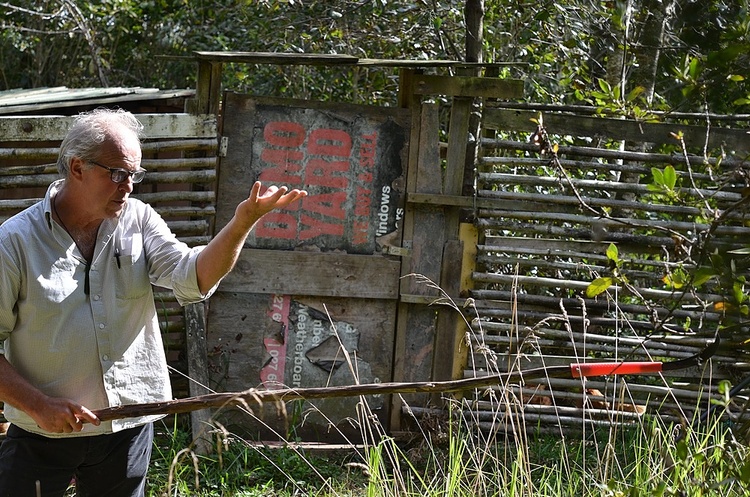 This event is part of EcoFest 2023, a month-long celebration of our unique environment to inspire sustainable living across Tāmaki Makaurau. 
Share your photos from this event with #ecofest.
Check www.ecofest.org.nz for the latest updates.