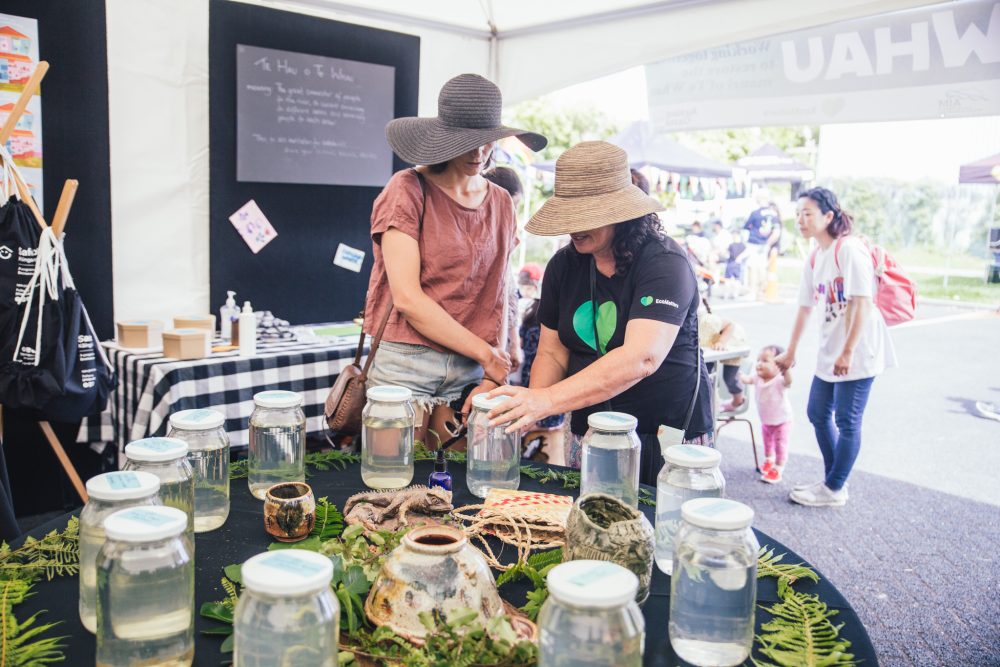 Creating connections and Empowering Actions for Te Whau
Location
EcoMatters

1 Olympic Place
New Lynn, Auckland 0600 New Zealand
Phone: (09) 826 4276
About this Event
HE TAURA WHIRI KOTAHI MAI ANOO TE KOPUNGA TAI NO I TE PU AU.
FROM THE SOURCE TO THE MOUTH OF THE SEA, ALL THINGS ARE JOINED TOGETHER AS ONE.
ABOUT THIS EVENT
Join us to connect with the Whau awa through cultural and ecological storytelling, speakers sharing the latest data, research and future thinking, water sampling and other hands-on environmental activities.
This day will bring together the people, organisations, local businesses, schools, university students and recreation who are all committed to restoring the vitality of this local awa and catchment for future generations.
Discover the community of people committed to growing the life of Te Whau awa and be inspired to take further action yourself. Come and join us as we weave relationships and projects to the place to reveal new potential for the regeneration of Te Whau. There will be opportunities to share, engage and develop together through stalls, speakers and water activities that connect us to place and source.
Discover the cultural significance and value of local places and names locally and across Tāmaki Makaurau that capture the essence of our places.
Be a part of the latest science investigations demonstrating the effects of pollutants on the health of our waterways and us.
Experience water sampling of the pollutants and life-force present in the water.
Discover the community and business efforts now underway and learn what you can do to take action and be a part of the change.
Gain a better understanding of what's happening at a grassroots level, nationally and on a global scale to address the issues of water pollution.
What's happening on the day
Stalls and activities from EcoMatters, Te Hau o Te Whau partners and other organisations and businesses interested in the health and wellbeing of the Whau awa will be available all day, in the Olympic Place car park area. Come along to meet our partners and learn about the projects helping restore health and vitality to Te Whau.
Discover the actions, connections and steps that we can all take at a community level to restore Mauri to the awa. Korero, presentations and hands-on activities, including UN Global Plastics Treaty, Aotearoa Plastic Pollution Alliance, innovations from tertiary and Masters university students, water collection, testing and observation of life and pollutants in the water, research and actions that are taking place at grassroots and global levels.
Try your hand at potting up a baby native plant to take home and find out about the restoration projects taking place in your community or available for schools around the Whau awa. Visit the EcoMatters Bike Hub for free advice on bike maintenance and local cycling routes in your area.
Food, coffee and other drinks will be available to purchase. This will be a zero-waste event – please bring your reusable cups, plates, cutlery.
Download a full schedule for the day here.
Workshops and speaker schedule
11am Karakia and welcome, from Te Kawerau ā Maki, Carla Gee (EcoMatters) and Jinny Baker (ESR).
11.10am Te manu e kai ana i te Matauranga – knowledge and practice, from Dion Pou – independent ecologist and Te Atatu Marae Whānau Committee.
11.25am Imaging Potential of Te Whau awa thriving within a nested Living System, guided session led by Amanda Hookham-Kraft, EcoMatters.
12 noon Connection and Discovery Walk to Te Whau, Beginning with a presentation by Te Kawerau ā Maki about the cultural significance and value of place names along the Whau awa (all welcome). Followed by a guided walk to the local stream in Olympic Park with Pamela Gill (EcoMatters) and Ruby Moore (Auckland Museum). Numbers for this walk are limited, please book in advance here to reserve your space.
12 noon Fresh Water Testing and Observations, with Briar Broad – Whitebait Connections. Sessions run every 30 minutes, until 2pm. Numbers for each session limited, please register on the day at the Whitebait Connections stall in the car park area.
1pm Te Hau o Te Whau and Partners – hear from a revolving panel of speakers, changing every six minutes, covering a systemic overview of engagement for restoring and retaining the health and vitality of Te Whau in Tāmaki Makaurau now and for the future. Download speaker profiles here.
2pm Open discussion and reflections on the day, all welcome to join. Reflect together on the day's learnings while we use visual system scribing to capture the potential of what is emerging from this sharing. We'll ask 'where to from here?', 'what is needed and required from us to regenerate Te Whau awa, people and place?' and 'What effect does this have on Tāmaki Makaurau?'
Te Hau o Te Whau meaning: The great connector of people to the river, its current connecting to different areas and connecting people to each other.
Te Hau o Te Whau is a long-running project, bringing together partners across science, community and iwi who are all contributing to the restoration of the Whau catchment. This event is a valuable opportunity to explore how we can continue to identify further connections and actions for the greater benefit of the Whau and the regeneration of people and place.
This event is part of EcoFest 2023, a month-long celebration of our unique environment to inspire sustainable living across Tāmaki Makaurau. 
Share your photos from this event with #ecofestnz
Check www.ecofest.org.nz for the latest updates.